Surface Treatment Equipment
A surface treatment is a process applied to the surface of a material to enhance the part's appearance, corrosion resistance and wear resistance. Mayflay company specialized in shot blasting and shot peening machine, suitable for cleaning the rough surface of forged castings, stamping parts and machined parts, for spraying, pre-treatment steps before plating, and strengthening the surface of polished parts.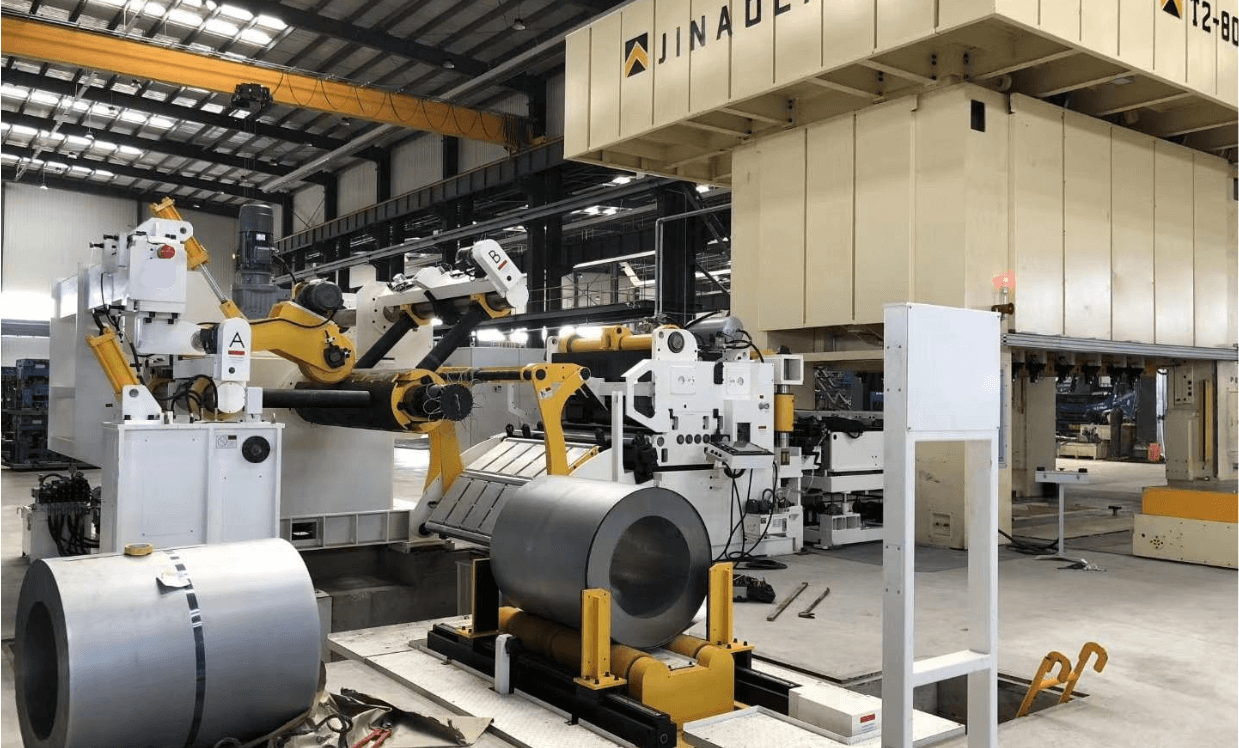 Coil Handling Equipment
Provide turnkey project for metal sheet stamping line,Manufacturers of separate Decoilers, Straighteners and Servo feeders, power press machine and progressive die, and can provide an excellent range of combo 2 in 1 decoilers and Straighteners, and also the very popular Compact Press Feed lines which will reduce floor space and dramatically improve threading time on heavy duty coils.
About us
Mayflay company are a high quality manufacturer of all types of surface preparation equipment and coil handling equipment. It has long been committed to the design and manufacture of shot blasting, shot peening, sandblasting and decoiler, straightener, feeder, press machine, providing intelligent surface treatment solutions and sheet metal stamping solutions to customers around the world.
20

+

Industry Certificate

30

+

R&D Engineer

200

+

Service Team

20000

M2

Industrial Park
Why choose us
Why choose us
R&d Team

1.Free project design

2.Free shot blasting experiment

Production Team

Field investigation, Custom design

After-sales Team

24 hours online
our solution
our solution
Automotive industry

Foundry & Forged Industry

Railway Transport Industry

Building Industry

Marine Transportation

General manufacturing industry
Automotive brake system surface shot blasting cleaning production line solution

Introduction of Automotive Brake SystemAn automobile brake system is a series of specialized devices that apply a certain force to certain parts of the car (mainly the wheels) to perform a certain degree of forced braking. The function of the brake system is to force the running car to decelerate or even stop according to the driver's request; to stabilize the parked car in various road conditions (including on the ramp); The speed remains stable.Mayflay Solutions1.Mayflay can provide surface cleaning and spray production lines for body structural parts.

READ MORE
Foundry Industry

Foundry industry introductionA foundry is an industrial plant where metal is melted and cast into specific shapes by pouring it into a mold. The process itself is centuries old. Today, approximately 90% of all manufactured goods depend on metal castings for component parts, with cars and trucks being the largest market. Aluminum, iron, and steel are the most common metals processed in foundries but other non-ferrous metals are also used for casting, or as alloys added to steel.In simplified terms, a foundry is a factory where castings are produced by melting metal, pouring liquid metal into a mold, then allowing it to solidify. Even if you have never been to a foundry, or even know what one looks like, you are surrounded by the metal castings they produce. There is a good chance that you are reading this less than 10 feet away from one.Foundries don't just produce metal products for engine, railroad, or pipe components. They also form components for machines that are required to make m

READ MORE
Shot blasting cleaning line solution for parts of bullet train brake system

EMU brake system introductionThe main contents of the EMU brake system include the basic concept of braking, brake classification, EMU brake system control device, EMU taxi control device, EMU electric brake, EMU friction brake and device, and domestic EMU. (CRH2 and CRH5 EMU) The composition, working principle and characteristics of the brake system, also briefly introduced the EMU brake system test and common fault handling and new brake technology. Since the sixth major speed increase of China's railways on April 18, 2007, and the first time the 200 km speed trains in China, the CRH series EMUs, collectively known as the "Harmony", have become the symbol of China's railways entering the high-speed railway club. . During the "Eleventh Five-Year Plan" period, China will build a new railway line of 17,000 km with a total investment of 2 trillion yuan. According to the newly adjusted national medium- and long-term railway network plan, by 2020, the national railway ope

READ MORE
Shot blasting and derusting production line for Marine engineering machinery parts

The steel plates with rust used in shipyards will affect the quality of shipbuilding. It is impossible to use manual rust removal for the workload will be large. This requires a machine to remove rust to ensure the quality of shipbuilding. The profile pretreatment line can be solved. Now many domestic and international shipyards and steel mills have successfully applied our shot blasting machine. Our Q69 series steel plate pretreatment lines have also been exported to Australia and other foreign customers.Derusting and cleaning of military missile destroyer surfaceDerusting and cleaning coating on ship surfaceShot blasting and rust removal on ship surface

READ MORE
send the inqulry. Mayflay is ready to design the best machine solution for you! CONTACT US
News and releases
News and releases
What our clients say
WE ARE WAITING FOR YOUR REQUESTS
"Mayflay strong production and processing capacity, focus on the development of production shot blasting cleaning equipment, shot peening equipment, sandblasting equipment more than 9 years"
GFXPARTNER – CEO